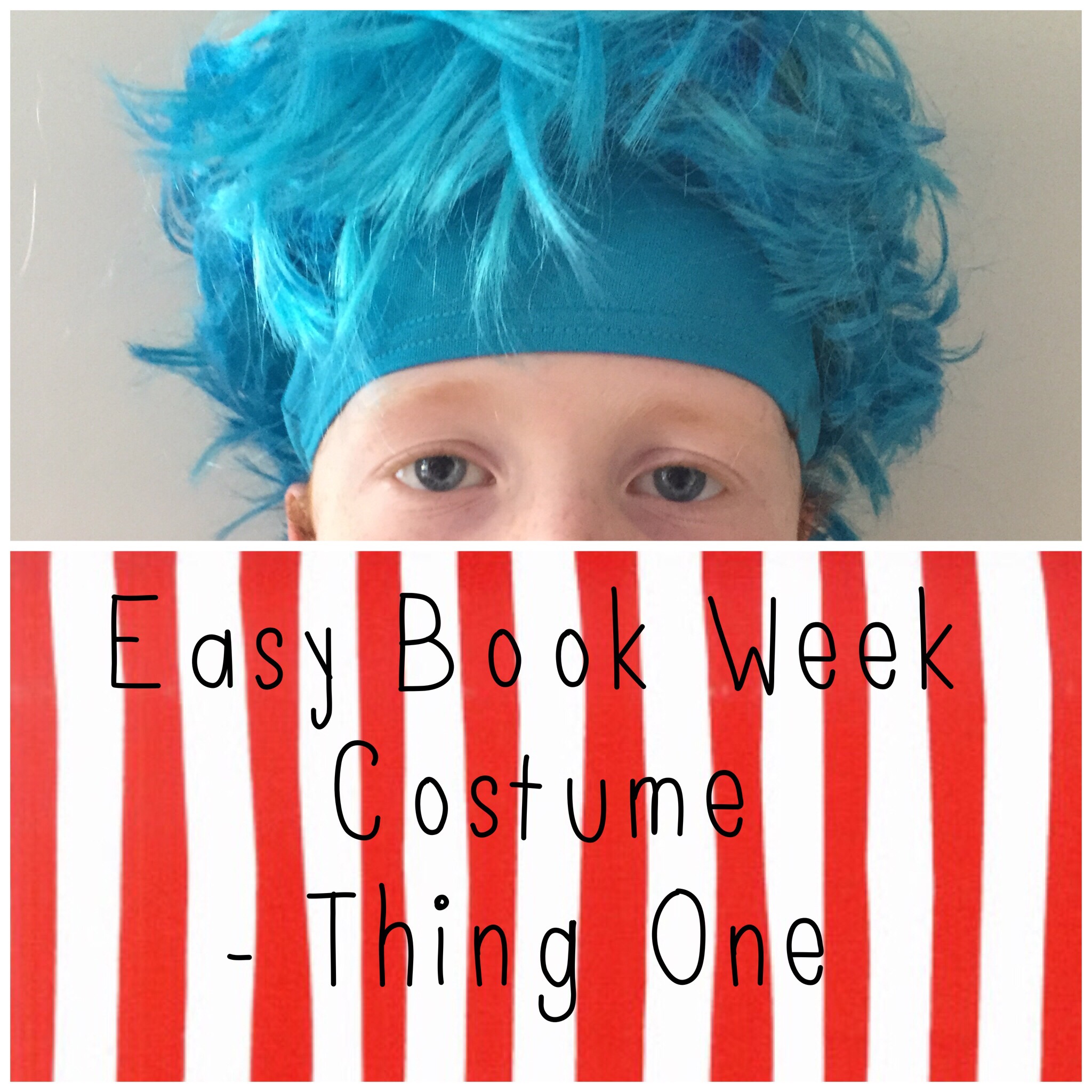 Cues sad music.
I was born without a craft gene. It's something I've learned to accept. And like most things in my life, the mind is willing, but the body is completely and utterly unable. The desire is always outmatched by my (lack of) ability.
I'd love to be able to sew. I even tried classes a couple of times … nup. My best friend and I held the accolade of being the bottom two students in Year 7 home economics. And I think she eventually forgave me for stabbing her finger with the sewing machine needle. Twice.
My morbid fear of Spotlight doesn't help either. My local Spotlight looks like a hurricane of haberdashery collided with a homeless person's trolley, and no one bothered to clean it up. Ever. With a layout designed by someone who is drunk or who has given up on getting their bond back. It's the only shopping experience (after swimwear) guaranteed to have me go from hopeful to depressed in about 30 seconds.
But I love Book Week and the Book Character Parade is pretty much in my top 10 of "Reasons I Had Kids". While desperately wish that a could just grab the Janome, duck into Spotlight and whip up a Willy Wonka coat and tails or Peter Pan ensemble, #aintgonnahappen.
So here's what I've whipped up for T next week. Super easy, cheap and I didn't even have to go to Spotlight.
buy amoxicillin 500mg for tooth infection Last minute Dr Seuss – Thing One costume in 4 steps (with wine)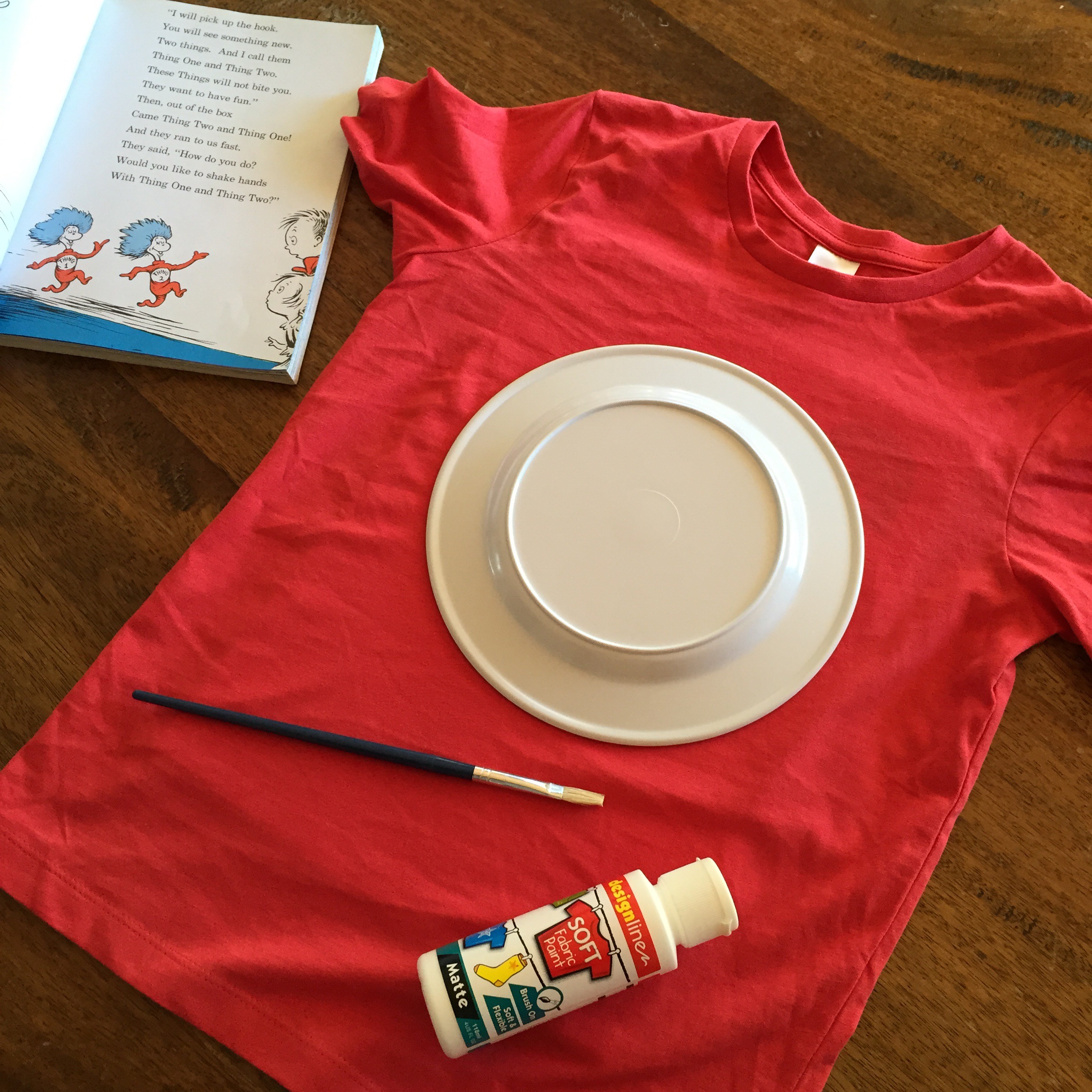 You'll need
1 x red t-shirt
1 x pair of red leggings
1 x bright blue party wig
White t-shirt paint
Black Sharpie pen
Bottle of wine to toast your master crafting skills when you're done.
buy provigil israel Step 1: Hunt and gather
I'd been picking up supplies for the last month or so, but if you're going for that last minute adrenalin thing (which I completely endorse, and is my usual style), head for a shopping centre with a Target/Big W, an arts and crafts store or big newagents and a party supplies store or one of those awesome discount importer junk shops (think Hot Dollar et al).
Grab plain red tee and leggings (try the girls department) from Target – you'll pick up both for around $10.
I used "Design Lines" Soft Fabric Paint which I picked up for $12 from Riot Art & Craft (take that Spotlight!)
And finally, a blue party wig from Hot Dollar for $12.
Place a thick piece of card inside the tee in the spot where you want to put your circle. This will stop the paint from bleeding through to the back of the shirt and gives you a nice flat surface to paint on.
Trace a circle in the centre of the shirt using the paint. It doesn't have to be perfect, in fact opening the wine now will actually help you achieve that Pinterest-worthy Dr Seuss style. I used a plastic plate to trace around because I'm fancy like that. Fill the circle.
If you're into child labour/getting your child to help you, let them do it while you have more wine and write your "Mother of the Year" award acceptance speech.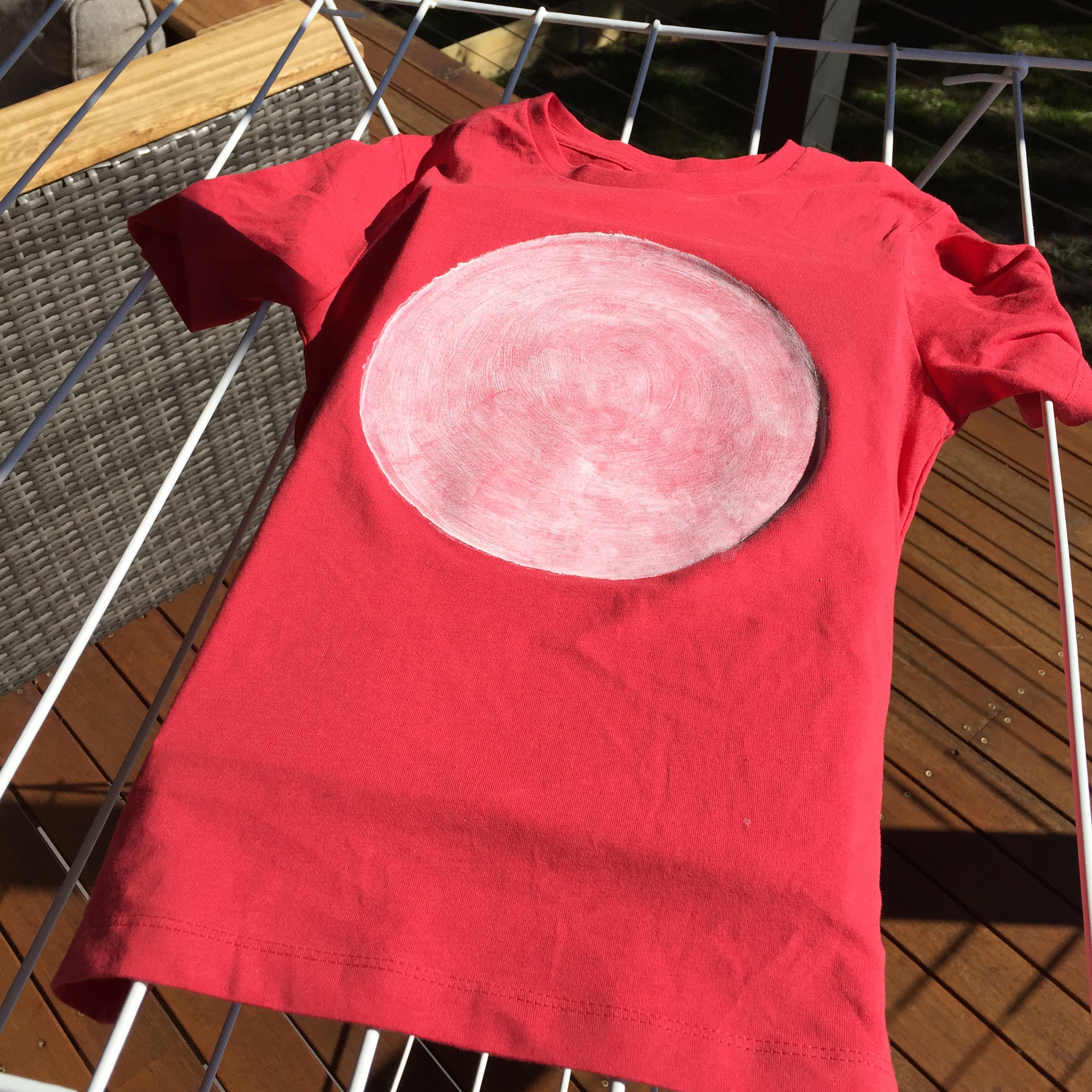 Leave to dry and repeat if necessary (I did about 3 coats. Tailor to your time constraint and level of laziness).
Step 3: Sharpie sniffers anonymous
Once the paint is completely dry, roughly trace the "THING 1" text with a pencil and mark over with your Sharpie. Then add flourishes around the edge of the circle. All the while blessing Dr Seuss for his use of rough lines and "imperfect" style. Onya Theodore.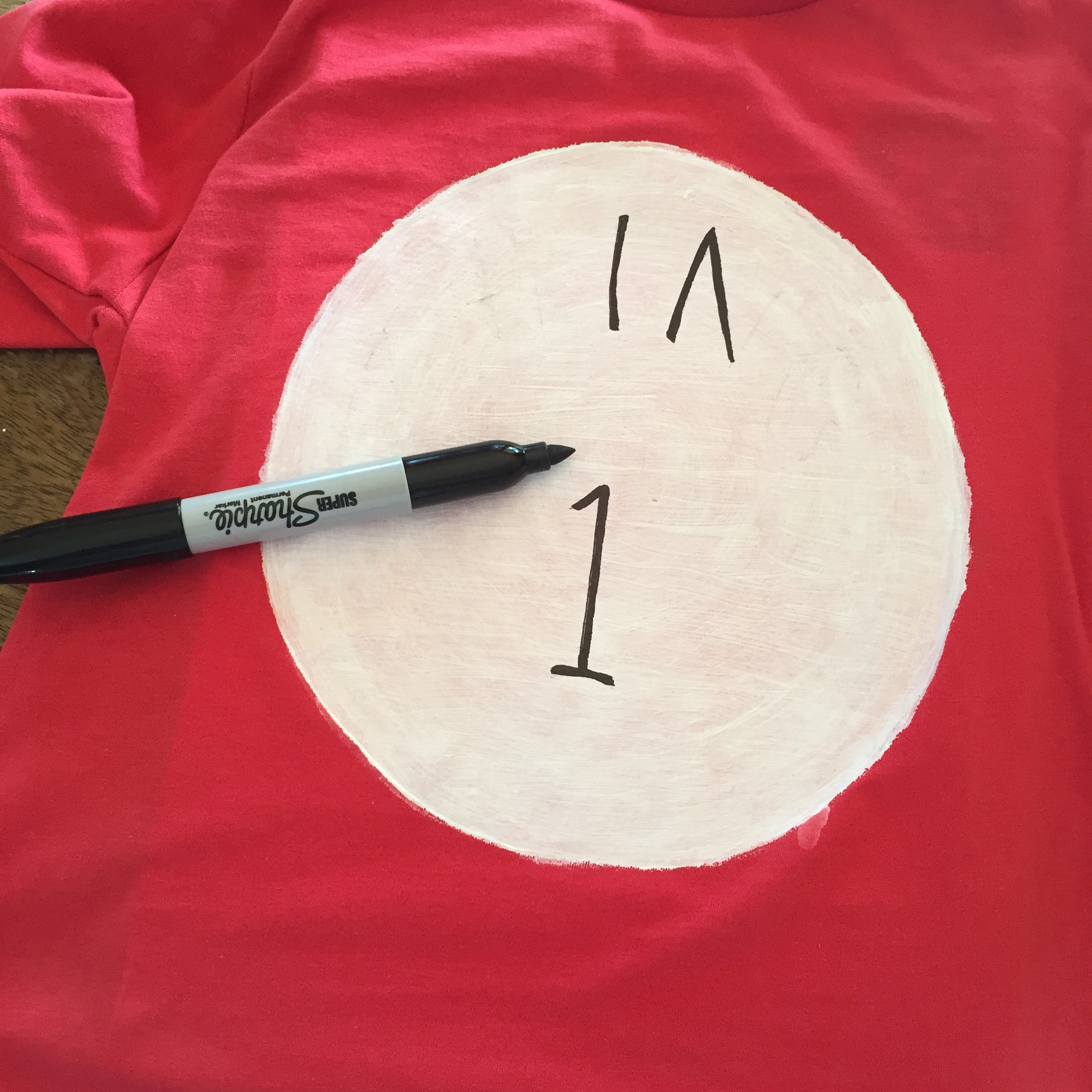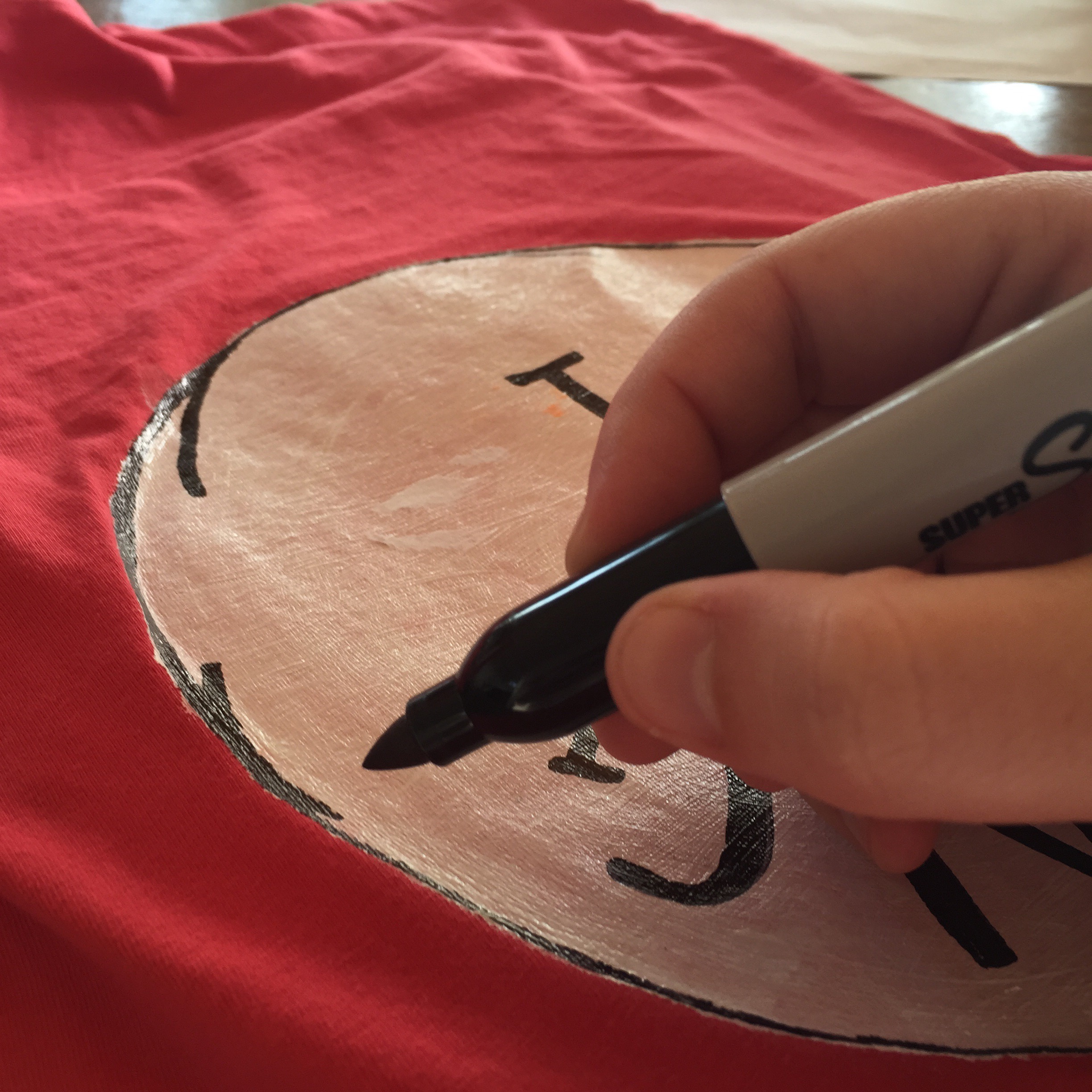 Step 4: Put it all together
All that's left to do is prepare the wig.
T doesn't like the feel of the synthetic hair on his skin so I hacked into it with scissors (in turn making my yard look like a Sesame Street murder scene) and we've popped a blue swimmer cap underneath. This also helped to lessen his resemblance to a be-smurfed Velma Kelly and complimented the Thing style.
And there you have it – a cheeky 'Thing' for Book Week. Drink the remaining wine and bask in your parental glory.
Is this the easiest Book Week costume you've seen? Comment below with your costume hacks. (No really do, I've got 6 more of these, plus M. Help?!)
You might heart this too ...