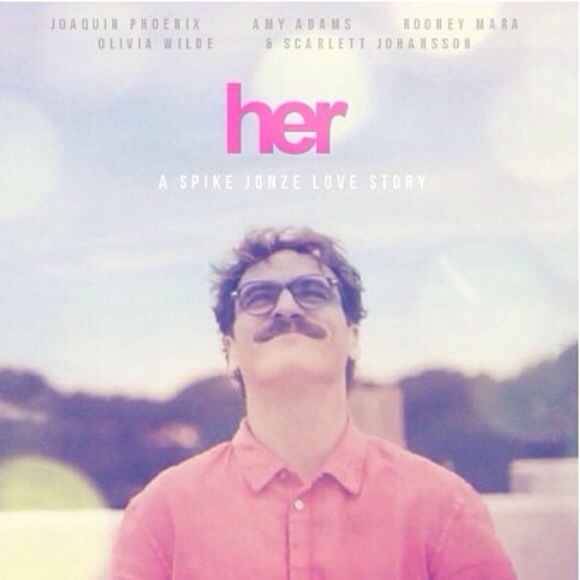 I love watching movies. When I daydream about how I'd spend a day without kids and responsibilities and obligations, it always includes going to the movies. And wine. And sleeping.
Husband and I rarely get to sit and watch a movie that doesn't involve animated animals, so when we do there is a lot of pressure. We haven't the time to waste on bad movies (sorry Adam Sandler) anymore.
Last Saturday night I picked Spike Jonze's Her.
Wowsers.
In case you haven't heard of it (I know it's been out for ages, but I get to watch like 3 movies a year, okay?!), Her is a love story. Disengaged lonely boy meets sophisticated computer operating system. 2001: A Space Odyssey, with extra sexual tension (no, not really).
I hesitated against writing a review of sorts, because this film was just so beautiful, and so engaging that I don't think I could find the words to do it justice. But here goes.
Joaquin Phoenix is amazing. He's always been the kind of actor that carries his own mythology that I find hard to separate from the role he is playing, but as Theodore he was perfect. That he and Scarlett Johanssen managed to give such brilliant performances without being in the same room shows their absolute talent.
"Sometimes I think I have felt everything I'm ever gonna feel. And from here on out, I'm not gonna feel anything new. Just lesser versions of what I've already felt."
The art direction, music, costumes all manage to create a world that is timeless and yet futuristic (note to self: high pants are on the way back). The locations and soundtrack are a character in themselves. I really want to visit Shanghai now.
I really loved it. It was sad and uplifting and so human. And as someone who gets twitchy when my iPhone battery is on 10% and I'm without a charger, it really spoke to me about our (my) love and dependence on technology and social isolation.
See it if you liked Eternal Sunshine of the Spotless Mind and Lost in Translation. Then buy the soundtrack, tickets to Shanghai and throw out your iPhone.
You might heart this too ...