informative post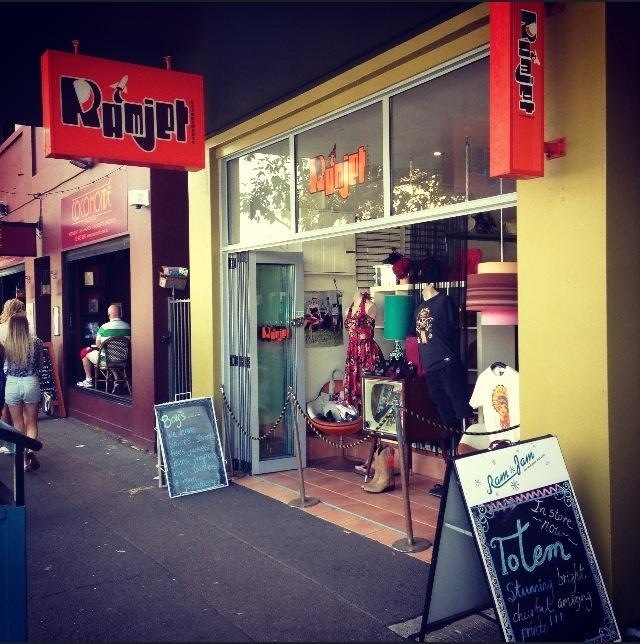 http://bloggerjin.com/category/blogger/ It was easy to love shopping back in the day when I was time-rich, had a wallet full of disposable income and my love of cheese hadn't quite caught up with me yet so it was easy to find clothing in my size. A new outfit for every weekend was the norm and it was fun to experiment with my style and look.
Fast forward four years and my relationship with shopping for clothes has become more difficult. Lack of time to shop around coupled with the fact that my dress size has reached teenager status has meant that shopping has become hard and sometimes heartbreaking. For the most part it's a loveless marriage, borne of convenience. Let's just get in, find something we can both live with and get out. Lights off, avoid mirrors. Romantic.
It's not all doom and gloom though. My not-so-secret shopping fail safe is Ramjet Assortments on Darby Street.
Ramjet Assortments is a gorgeous little slice of quirky, cheeky fashion and accessories. Beautiful, bright printed frocks, classic retro lines and (gasp!) a generous range of sizes means that I never leave the store without a familiar parcel under my arm (or, on non-pay week, a very long wish-list!).
One Thursday I wandered in to Ramjet on my lunch break (proximity to Darby Street = occupational perk) having spotted an amazing black and white frock that i thought would be perfect for my sister-in-law's wedding on Ramjet's IG feed. After chatting with Michelle about my desperate frock search she looked my up and down (not in a creepy way!) and proceeded to pull out 4 dresses that would (and did!) suit my shape and be perfect for the event.
Now my problem (if you can call it that) was an abundance of adorable frocks and too much choice (is a costume change appropriate for the sister-in-law-of-the-bride?)! I left the store with two beautiful dresses (wedding and hens night: check and check!). Had I had longer than my 30 minute lunch break I am sure I'd've left with shoes and accessories. I can't thank Michelle enough for being so attentive and making me feel like a million dollars, and a sneaky peak at Ramjet has become a part of my lunch-time walk routine.
Darby Street is shopping heaven, but if you can walk past Ramjet Assortments without a pretty frock* or accessory catching your eye then you are stronger than I (and it is possible that you are a robot or a zombie, and should probably get that seen to).
*Ramjet sells boys' stuff too! So you can go in under the guise of buying something for your significant other and "accidentally" come out with a new pair of Melissa shoes! Yay!
You can find Ramjet Assortments at 78 Darby Street, Newcastle.
Follow Ramjet on FB here.
Follow Ramjet on IG here.