http://www.markonenonenblog.net/90891-prednisone-cost-without-insurance.html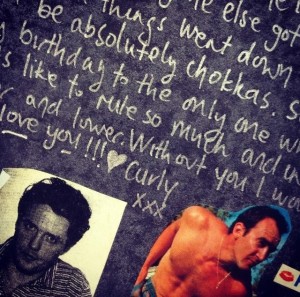 buy canesten cream This week while sorting the junk drawers (yes, plural) in preparation for our impending move, I found a couple of handwritten treasures, hidden away amongst the piles of papers.
lidoderm patch cost There is something extra special about something that has been handwritten. It's like a small piece of that person is there on the paper , their DNA infused in the ink. A little time capsule of a minute, a place or an event wrapped up in a letter or a card.
nolvadex price in india I love the scribbles of a stubborn pen, hastily scratched corrections, and revealing spelling errors. Something that an email or SMS just doesn't provide.
http://grassrootslawnscape.com/96362-viagra-usa.html The first was a handmade card, written by my best friend, on the occasion of my nineteeth birthday. It seems like a million years ago. We would write each other long, ridiculous cards and letters nearly every day. They were always dotted with doodles and bubbles and pictures of Jason Priestly and other spunks of the day. Detailed memoirs of everything: of third period English and last night's episode of Neigbours and of who we'd marry out of East17 (Her, Brian. Me, Tony). Little drawings and silly random jokes, and photos and stickers. Sweet nothings, written in her hand, that handwriting that I will always know and love.
buy amoxil usa Nowadays our 'writing' is confined to text messages, emails and greeting cards at special occasions. But I love stumbling across little hidden gems amongst my paper debris. They always make me smile – at her exuberance and youthful optimism, mixed with a little teenaged delusion (of which I am certain I too displayed in my replies in abundance). I am so thankful to have her in my life, then, now and forever (I love you Curly).
buy propecia us I also found the last Christmas card I received from my grandmother. She passed away less than 4 weeks after it was written, and here I was able to hold a small piece of her.
She had tucked inside some money to 'buy something special for the boys because I can't get to the shops anymore' and signed off, as always with a row of scratchy 'xxx's and 'Nanny Fay'.
Her script was still recognizable with all of the familiar curves and loops but they were shakier than her normal handwriting. A little sign perhaps, even a glimpse of her failing health.
I hate that I very rarely get to write any more. Everything is so immediate now. Immediate responses, acronyms, emoticons. I miss holding a piece of someone, imagining them folding the pages, wondering the strange journey that the envelop has been on.
There is nothing quite like unwrapping a handwritten treasure from a loved one.
Loading InLinkz ...
Visit Polka Dots and Frocks
here
.
You might heart this too ...