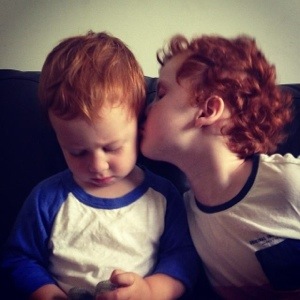 As inspired by the ever-inspiring Pip Lincolne, here is a snapshot of my world, this February 2014.
robaxin 500 onlike no prescription Making: Invitations to my Mum's 60th birthday party
buy priligy in south africa Cooking: More than usual as house chef husband is away for work
Drinking: Not enough water
Reading: "Bewitched and Bedevilled: Woman Write the Gillard Years"
Wanting: My 4 year old to get better. He's already had a sprained ankle, impetigo and head cold since Term 1 started.
Looking: At potential wedding photographers with my beautiful sister-in-law
Deciding: To stop feeling guilty for taking time out to exercise
Wishing: For peace for the families of Luke Batty and Maddie Tippett
Enjoying: That feeling after I finish a workout
Waiting: For word that our mortgage insurance has been approved.
Liking: Dark rainy afternoons that mean I can 'trick' my boys into going to bed 20 minutes early!
Wondering: Whether our renovations will ever start
Loving: Lena Durham – I just finished 'Girls' Season Two. Wow.
Pondering: What shall I wear tomorrow?
Considering: Going for a run tomorrow
Watching: 'Great Gatsby' (finally!) and wondering what Baz Lurhman's dreams look like
Hoping: That my husband finds balance and confidence in his new role
Marvelling: At Leonardo Di Caprio as Jay Gatsby – how could I forget what a brilliant actor he is?
Needing: To go to bed early … and yet I never do
Smelling: A square of dark chocolate from my secret stash. Ssssshhh … don't tell anyone.
Wearing: A gorgeous Rummage Style top made from vintage material
Following: @iamnewcastle on Twitter and remembering what an awesome freaking city I live in!
Noticing: How much playdoh is stuck down the cracks of my floorboards
Knowing: A pretty terrific secret that just wants to jump from my mouth, but I'll never tell!
Thinking: About all the events at the Newcastle Writer's Festival that I want to attend.
Feeling: Deserving of the impending weekend.
Admiring: The brilliant Linda Drummond whose Twitter hashtag #SPCsunday started a revolution!
Sorting: Laundry. Always.
Buying: Ice-cream for my tonsilitis suffering husband.
Getting: Into my exercise routine way more than I'd ever thought possible.
Bookmarking: Clean eating recipes that I will probably never cook.
Disliking: How we seem to have lost our sense of empathy.
Opening: Too many tabs on my laptop.
Giggling: At my cheeky boys chasing each other through the house like a pair of crazies!
Snacking: On raspberries. My expensive habit.
Coveting: A Blythe doll. A ridiculous luxury … but I want one!
Helping: Is hard with those that won't help themselves.
Hearing: INXS, having jumped onto the TV movie bandwagon like everyone else.
What have you taken stock of this week? I'd love you to share some of your own…