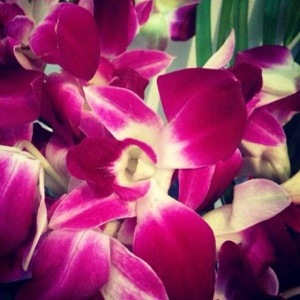 It's quiet, dark and cold.
I have to keep reminding myself that it's her lying in the hospital bed. The tiny figure that's curled beneath the crisp sheets is that of a small child. That stray foot that keeps escaping from the sheet: with its fine skin and arthritic joints, betrays its owner's identity. This is not how I will remember her.
So quiet. I make polite small talk to break the silence.The weather. Who's winning the tennis? Apparently Nanna fancied John McEnroe. My relatives talk about other relatives I don't know, and places in Dungog that I've never seen. There's so much I don't know about her beyond just being my Nanna.
She was different to my friends' grandmothers. My unique, beer drinking, filthy joke telling Nanna. We once discussed the Doug Anthony Allstars, she thought that they were funny and had nice voices, but were a bit naughty for her. Nan didn't go to bingo: she ran the bingo,for the oldies, she said. As my uncle remarked later, she didn't realise that she was an oldie herself.
My favourite childhood memories of her are of afternoons spent playing gymnasts balancing on her fence top while she watched from her verandah. Whenever my brother and I visited she'd have a new brain teaser card game or puzzle for us. My brother was always better at the tricky ones.
She bought me a Polaroid camera for my birthday when I was about 12 and ignited my love of instant photography. Her other favourite birthday gift was strands of scratchies, one for each year: laps covered in silver crumbs as we scratched for our prizes and tried not make too huge a mess. And every year my brother and I would compare our meagre winnings and joke that Nanna must keep the all winners for herself.
He and I say our goodbyes. Kiss her, hold her tiny hand. And leave, waiting for the call.
Nine days later I sit between my husband and brother at her funeral. Orchids and lilies adorn her casket. She grew her own orchids: far more beautiful than the ones I desperately grabbed from the supermarket and took to her on my final visit. I'd never noticed how beautiful orchids are, and wish that I'd asked her about them.
I learn more about her in my uncle's eulogy and at her wake than I'd ever known. That she didn't swim because she'd nearly drowned as a girl. How her parents separated and she stayed in Dungog with her father while her mother and sister moved to Newcastle. That her father was a bookmaker and after she left school she worked with him and in pubs and hotels.
I can't begin to imagine what that world must've been like for a young girl – but I bet she was able to hold her own more than I could've. What she must've gone through when she found herself unmarried and pregnant with my father in her early 20s, or when she found herself single again when he was a baby. How hard it must've been working in noisy, smokey pubs and raising three children.
How I wish I'd asked her more about her life.
You might heart this too ...