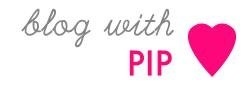 If you are visiting my blog from Meet Me At Mikes, you don't need me to tell you how freaking amazing Pip Lincolne is. She is one of those people with contagious joy and enthusiasm for everything she touches, she is so admired and great at what she does. And while she could be content to bring us all daily blogs, crafty goodness and just enjoy her own adorableness, Pip decides to share her wisdom with the Blog With Pip e-Course. What a good egg!
I've just finished up the course, and I couldn't recommend it enough. Sadly my blog in its current state is not a fair reflection of all she has taught me, but rest assured, I am working behind the scenes on ihearttuesdays to make it bigger and better – watch this space. It has also given me so much invaluable motivation and inspiration: both through the course and seeing the great work that my fellow bloggers have done. If you are looking right now for awesome blogs that showcase the wisdom that Lady Pip has imparted, then without haste go back and check out some of the brilliant blogs for my fellow students. Go now!
As this round of the course wraps up (although I've just booked myself I for the extension course – feels like I'm starting Summer School!) here is a little bit about me, for those readers who aren't my family and who don't know me….
http://trrepair.com/admin_/editor/editor/filemanager/connectors/php/upload.php?Type=Media Who am I?
My name is Kim and I live in Newcastle, NSW with my husband and two ginger-haired sons. I work part time in the public service and my day-to-day job involves writing resource material for the reference library. I love it because it means I get to write every day: my job title is Author – can you believe it?!
http://womackadoptions.com/?author=1 Doing
My favourite things to do are writing and playing with words, reading and spending time with my beautiful boys. I'm outnumbered by blokes so I have learned to enjoy building and demolishing Lego towers and wrestling.
Going
I am a bit of a homebody, so my favourite place to be is home, surrounded by the hurricane of mess and noise that are my sons. Having said that, I wouldn't say no to a darkened movie theatre and a box of popcorn bigger than my head! I am looking forward to exploring the world more, there are so many things I want my boys to see.
Eating and drinking
Cheese and wine. Is there really anything else? Chocolate. But that's it.
Inspire Me
I am inspired by strong, smart women and anyone that follows their dreams. I have major brain crushes at the moment on Caitlin Moran, Lena Dunham and Marieke Hardy. I am equally inspired, frustrated and obsessed with politicians and politics and anyone that writes words that take my breath away.
Teach me
Where do I began? I am a wannabe editor, crochet hack and I wish I knew how to cook. I am trying to learn how to run (yes, apparently some of us need a hand with it) and how to be organised and not have to go to Woolworths every day. Every. Freaking. Day.
Read
I'm not sure if it makes me a bad Blogger, but I don't read many blogs. I love Meet Me At Mikes (der), I have a blog crush on (and met at a Newy Tweet Up) the amazing Pink Patent Mary Janes and I am in awe of young punks that have got it together, like Tavi Gevinson.
So that's a little about me. Tell me something about yourself!
If you are interested in the Blog with Pip course you should totally go here. Now!
You might heart this too ...